Louise Strickland - Performances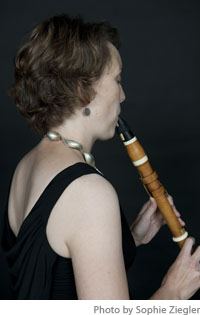 As a freelance clarinettist and recorder player, Louise performs regularly with New London Consort with whom she has appeared as a concerto soloist and toured extensively in Europe, the UK and Australasia.
She has worked with high profile ensembles such as Il Giardino Armonico, The Gabrieli Players, Retrospect Ensemble, London Handel Orchestra and Les Arts Florissants.
Notable chamber music performances include concerts of Romantic wind chamber music in the "Spotlight on Young Artists" series at the Festival de Saintes 2006, touring with the French wind Ensemble "Ensemble Philidor" on clarinet and basset horn; concerts of Shakespeare's music for broken consort as guest recorder player with Philip Pickett's "Musicians of the Globe" in Manchester's Bridgewater Hall and De Doelan, Rotterdam in 2010, as well as performances of English Baroque music for voice and recorders with New London Consort in venues such as London's Purcell Room.
Recordings include for BBC Radio 3, France Musique, ORF and Deutsche Grammophon.
Louise is a founder member of the Baroque ensemble Concentus VII and the clarinet and basset horn trio Clarino Ensemble. View Louise's performance diary page or enquire about making a booking.